We all know that referral programs are now one of the sure ways that we can easily use to make money, it is very assuring but can be tiring most times. There is this new referral program that recently came out, it is hosted by VPD money themselves.
It could be possible that most of you that are reading this right now must have heard about this referral program that pays you N500 for each person you refer to join the platform but after you give it a trial, you seem to be lost as the N500 which was promised by your upline has not gotten to you. You do not need to worry; we are writing this article in order to help answer as many questions as you have about this VPD referral program. Before we go on, let's get to know what exactly is VPD Money is all about.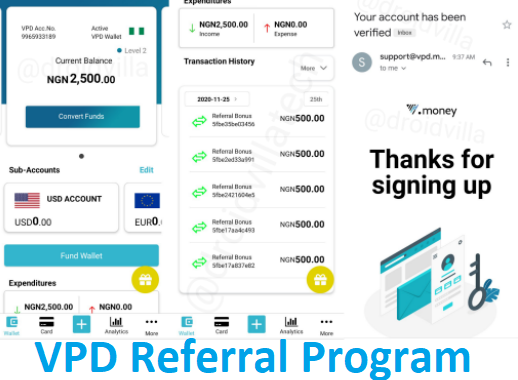 What is VPD Money?
This VPD Money is a smart financial product made available for mobile people who are interested in smart, easy, and secure transactions. It is just as simple as that when you are a member of VPD money. you can be able to keep track of your expenditures, receive money, enjoy having easy access to your best international brands, and also make payments. You can just see this platform as a mobile bank just as Kuda.
Features of VPD Money
Here are the features that comes with this app:
You will get unlimited free transfers.
You will be given access to borderless payments through virtual cards.
There is cashback on every transaction.
You can easily convert from the local currency to international currencies.
You will have access to exclusive tickets, top-ups, bills & subscription payment services in no time.
This information provided above is really helpful but what we are more concerned about is how one can be able to participate in this VPD referral program and also earn some money from it before they put an end to it.
How to earn with the VPD referral program?
This VPD referral program has promised to reward its users with N500 cash that they can use for anything they want, meaning that they can transfer the cash to any of their other bank accounts, that is if they have any, or even buy airtime with it, and so on.
Let's take a look at how one can be able to participate in this VPD referral program and make money from it.
The first thing you have to do is to download the VPD app from either the Google Play Store or the Apple Store.
Then you launch the app and click on SIGN-UP.
Type in your phone number, you can make use of your WhatsApp number. V
Then you verify your phone number by using the OTP they sent to your line after you provide it.
From the next page that will display, you will have to provide your BVN.
Then you will need to provide your personal details in the next step, make sure that they are the same details as you have in your BVN so that VPD will be able to confirm your identity.
You will be required to provide a selfie photo of yourself for verification, enter a username and password that you can use to gain access to your VPD account. If they ask for a referral code, you can make use of this; 3P8TBR. After which you can then confirm your email address by tapping on the link sent to you through the mail.
After that, you login to your VPD account, click on the More which you can find at the bottom navigation area, then you click on referral and copy down your referral code somewhere or you use the share button to share the word about VPD. You will receive N500 for each friend that registers with your referral code. 
Once you are able to see the money in your VPD account, you can then send the money to another bank account or just use it to buy airtime for friends and family members, or even yourself.
RECOMMENDED >>> EarnersFX – EarnerFX Review | Get Back at Least 40% of Your Investment in Just 7 days