Earlier today around 1:30 GMT (Wednesday) YouTube experiences a major outage which had a great effect on all of their YouTube services including;
YouTube
YouTube TV and
YouTube Music
This outage lasted for more than an hour and I can assure you it wasn't a great experience. I was streaming videos around that time of the day and discovered it was showing me some error message. I first thought I was having an issue with my connection, so I had to try using other people's devices and it was the same. Though, it isn't the first time YouTube is experiencing an outage. They had a brief one during the Croatia and England Semi-final match of the FIFA World Cup 2018 which was restored pretty quick.
YouTube Outage and What YouTube Had to Say
When trying to open the YouTube services, I was being welcomed with a black page such as this below.
YouTube hasn't really said anything to users concerning this issue but they said they were looking into reports of their services and were working on it. YouTube took to their tweet handle to acknowledge they were aware of the issue and tweeted
"Thanks for your reports about YouTube, YouTube TV, and YouTube Music access issues. We're working on resolving this and will let you know once fixed. We apologize for any inconvenience this may cause and will keep you updated".
PEOPLE ALSO READ: How To Start a YouTube Channel Step by Step
What Users Had to Say About YouTube Outage and How YouTube Handle it
We all know that Google owns and runs YouTube and how dilapidating it could be if any of their services are down. These are some of the tweets of individuals who experienced this Outage.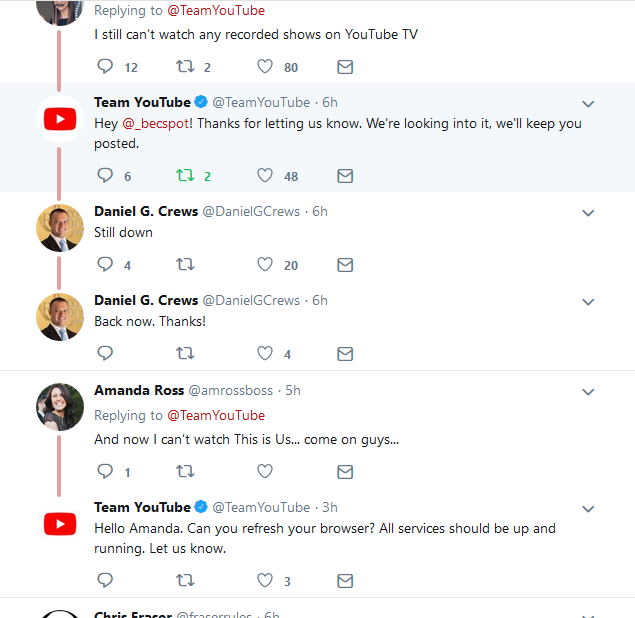 Countries and Regions That Where Really Affected By The Outage
USA
Asia
Europe
Australia
These were countries and continents the YouTube Outage really affected as they are noted to have a higher visitor
What YouTube Should Have Done Before The Outage
Firstly, I must commend YouTube for their great job. At least I am a very big fan and would want to start up my own channel on YouTube soon.
Considering what also happened at the FIFA world cup 2018 I think YouTube should have done an in-depth study of this issue after the occurrence. But if it was that they shut it down for some reason in order to fix up things, it would be better they alert users all over the world addressing the issue. At least, this wouldn't make people like us tensed when streaming a video and worrying the fault may be from us.
I appreciate YouTube for their acknowledgment of the issue on ground and fixing it even though it took more than an hour to do.
PEOPLE ALSO READ: Mode Online Shop