Google Playstore is undeniably one of the top platforms so long as downloading of mobile applications is concerned. Android users enjoy the benefits of downloading free apps from the Google Playstore. This app store is like the first platform app developers think of when it comes to launching apps, proving that Google is a very powerful company.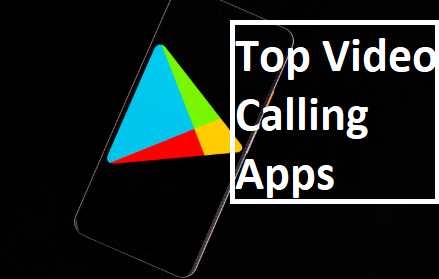 Instant Messaging apps make it really easy for us to communicate in our world today. Currently, I huge number of these apps now have a video calling functionality. Although, there are some apps created to help people enjoy video calling because of the quality they bring. A lot of mobile phone users now download these apps based on the fact they can make video calls with their friends and loved ones with ease. Some organizations, companies, and brands, use them as tools for holding conference meetings. You reading this article probably make use of one or two of these apps that are going to be mentioned shortly. It is also possible there are other video calling apps you prefer.
The Top Video Calling Apps on Google Play Store
Hangout – Google Hangouts is like a solution to Apple's FaceTime app. When it comes to video calling, Hangouts is one app you can trust. It's majorly a messaging app but has several features that make it really amazing. On Google Playstore, Hangouts has more than 1 Billion downloads and 4 Million reviews. This app can house up to 10 video calling participants all at once and it is free.
Skype – When it comes to video calling Skype has been known to be at the top of the game for years. In fact, Skype showed the world it was possible for people to communicate through video calls. Companies till date make use of this free service for meetings with their board members and other members in other parts of the world. On Google Playstore, Skype has over 1 Billion downloads and 11 Million reviews
Zoom – By the day Zoom is getting more and more popular. When it comes to video calling, you've never seen anything like zoom. Can you imagine having a video call with 100 persons? Yes, up to 100 participants can have a conference call using Zoom. This app has totally broken the limits since you can have a much larger number of participants having a meeting at the same time. Zoom has more than 100 Million downloads and 92 thousand reviews on Google Playstore. It is also free to use.
Viber – This app is popular for helping users make free phone calls. Over the years it has advanced and currently, it is used as a messaging service having also voice and video calling features. Viber gives you a unique experience when it comes to making video calls. On Google Playstore, it has over 500 Million downloads and 13 Million reviews.
Whatsapp – You can never talk about instant messaging without addressing Whatsapp first. Over time, this app has greatly improved and has added more features. Now, users can do both voice and video calls. It makes video calling really easy and enjoyable. Users can connect with anyone from any part of the world. Whatsapp is even working on increasing the number of participants who can make use of their video calling service. This app has over 5 Billion downloads and 111 Million reviews on Google Playstore.
PEOPLE ARE VERY INTERESTED IN – Tinder Online Dating App Download – Download Tinder App on Android